Bring Fig to your city
Do you love positive communication and joyful collaboration? As a Fig franchise owner, you'll be part of a movement to make your community stronger.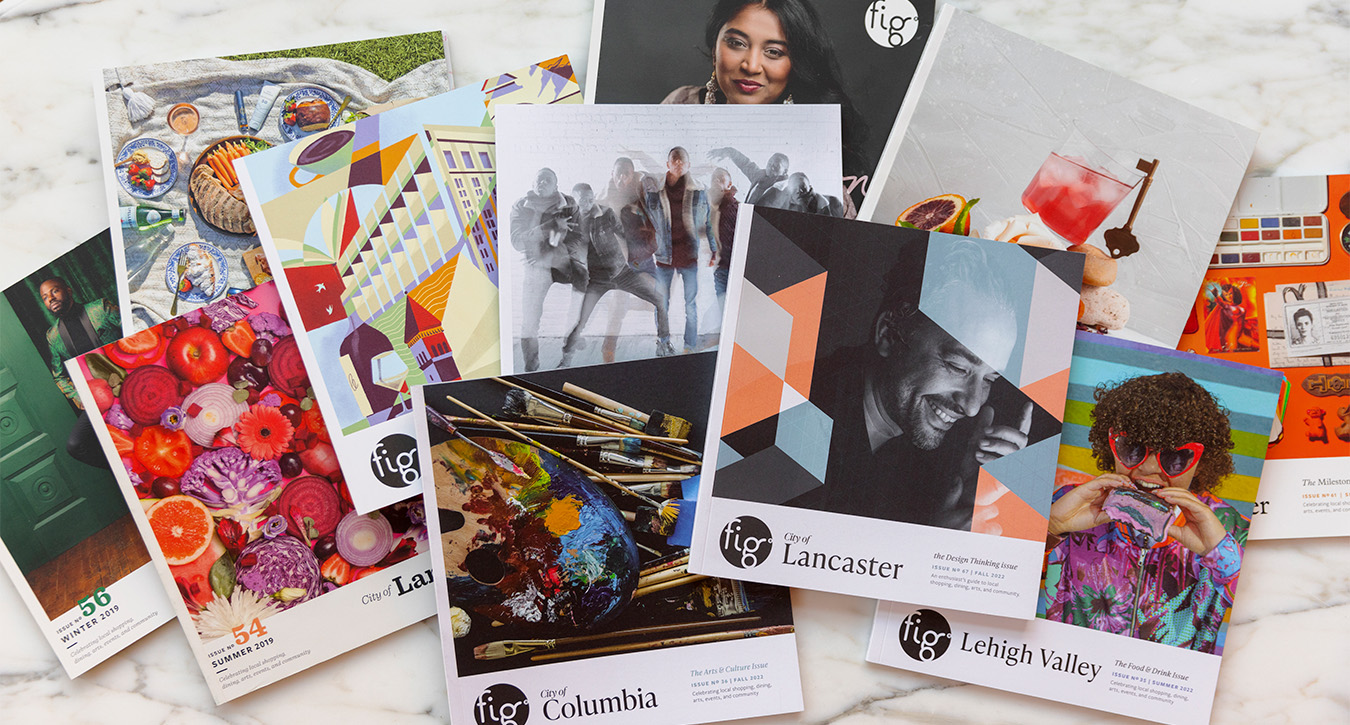 A fierce love for community
Fig is more than a magazine. There is a sense of camaraderie that can only be found on the pages of Fig. And like a trusted neighbor, readers keep Fig around as a resource and a way to connect.
Owning a Fig franchise
Do you want to own your own business and build community, but also want established systems and a proven brand? As a Fig franchise owner, you'll receive all the support you need from a network of entrepreneurs who share your vision. By leading your team of local creatives, you'll join in Fig's mission to use creative communication to spread the word about the place you love to call home.
Meet the founder
Deborah Brandt has a passion for creative communication and a determination to help small businesses, which she considers to be the heartbeat of communities. She lives by the belief that one big idea can change everything, and with a little ingenuity and a lot of hard work, anything is possible.
With a heart for people and a creative mind for solving problems, Deborah dove into her community headfirst after leaving New York City and moving back home to Lancaster, Pennsylvania in 2000. She wanted to use her design and communication skills to make an impact. That's when the seed for Fig was planted. And as Fig grew, so did her vision and enthusiasm for telling positive stories and celebrating those doing great work.
Fig is now an established guide to shopping, dining, arts, and community in a growing number of cities. And Deborah? After all the ups and downs of owning a small business, she's as passionate about the mission as she was on day one.
Community Love for Fig
"Thanks to Fig, our city remains in the spotlight. Since its launch here, Fig has elevated Lancaster's local small businesses and the people behind them. Fig's creative content showcases the many sectors of our local economy that make our city thrive—the arts, food scene, retail, professional services, and more. I am particularly inspired by Fig's work spotlighting Lancaster's local community, including nonprofits, rising artists, and emerging entrepreneurs. Through this work, Fig continues to bolster Lancaster's brand and define the city as a destination for locals and out-of-towners."
Danene Sorace
Mayor, City of Lancaster
"High companies and High Foundation have partnered with Fig on their mission to revitalize our city for more than a decade. We observed early on the passion and determination to help small businesses thrive, and we appreciated the design aesthetic and creativity to make it happen. Fig has brought the city to life through storytelling and photos, and the magazine they create four times a year has been a catalyst for change and growth throughout our community."
Robin Stauffer
Executive Director, High Foundation
"I am quite confident that our city's current vibrant economy would not be nearly as healthy or diverse without the efforts of Fig. Fig's optimism spurs business owners and restaurateurs to believe in the future while channeling collective community vitality into a tangible piece of art."
Kedren Crosby
Founder & President, Work Wisdom
"Fig has translated my business through professional photography, beautifully written copy, and complete detail from start to finish in every issue for over 16 years. Festoon has benefited tremendously from the longevity, attention, and wide reach of each publication. There is no other hard copy with the added benefit of social media attention out there that even comes close to Fig!"
Kathy Frey
Owner, Festoon Boutique
"Fig has been an amazing partner to our small business, relentlessly helping to promote us. More than a magazine, Fig's commitment to excellence, creativity, and community have made a huge impact on our small business."
Kendra Pepe
Co-owner, Ken's Gardens & Gallery Grow Plant Bar
How to get started
Step 1:
Fill out our interest form below
Step 2:
Schedule an introductory call
Step 3:
Review Federal Disclosure Document
Step 4:
Submit franchise application
Step 5:
Receive approval & sign agreement
Step 6:
Begin training orientation to get started
Ready to get started?
Let us know who you are and where you are from, and we'll be in touch with more information.
This information is not intended as an offer to sell, or to solicit an offer to purchase a franchise. It is for informational purposes only. An offer to sell a franchise is only made in conjunction with the delivery to you of a Federal Disclosure Document. In addition, certain states have laws regulating the sale of franchises and require franchisors to register in such states or meet other legal requirements, prior to offering franchises for sale. If you are a resident of one of these states, we may not offer you a franchise unless and until we have complied with your state's applicable pre-sale registration and disclosure requirements. Please contact us for information on our ability to sell franchises in your state.